"CREATIONLINE CUP" The 3rd ICT Troubleshooting Contest -DAY2-

The 2nd day report
Schedule
9:00~12:00
Contest Start
【Day1 Questions】

OSPF question. (Request for resetting network, and external connection.)
Steganography 1HDVC(research the answer and report)
DHCP → Request for constructing the DHCP server.
TTL → Resolve the issue of can't network access.
proxyradius → Resolve the issue of authentication.
Packet analyzing. (research the answer and report. part2)
Application DB migration. → (Test Redmine DB migration.)

12:00~13:00
Lunch
13:00~16:00
Contest restart
Day1 end.
16:00~17:00
Scoring
17:00~20:00
Social Gathering Party and Lightning Talk.
Contest Start
This is raining, but participating team students didn't delay.
From 9:15, the contest question ticket(Redmine) issueing.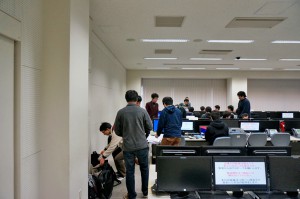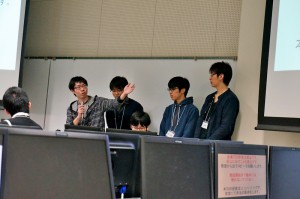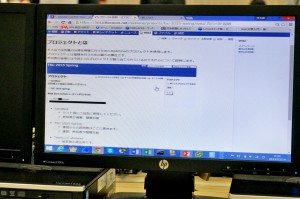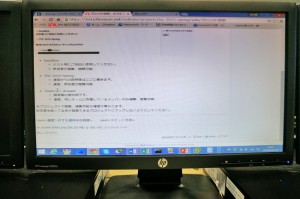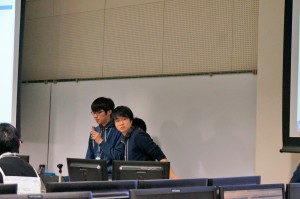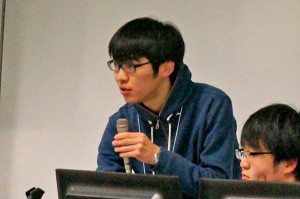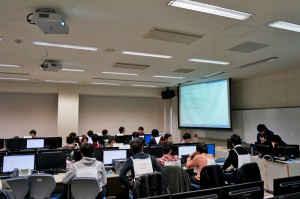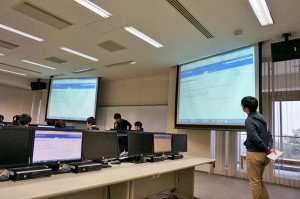 Competition rule explain. In this contest, use IP Phone for contact to the steering committee.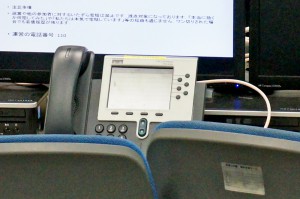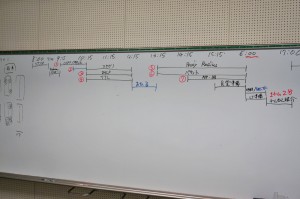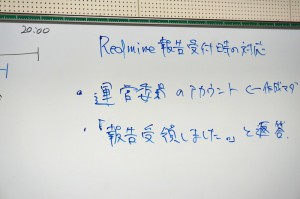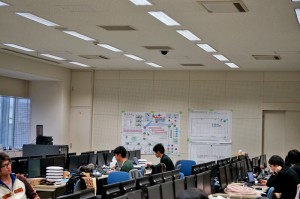 Competition Start!
The steering committee checking contest progress.
In the Operation room. This monitor vision is Zabbix system.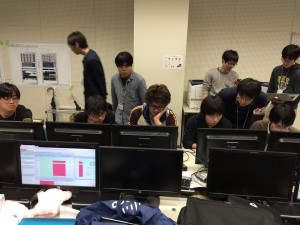 回答進捗をモニターする運営チーム。
This timing, the uniform of Cisco is arrived.
The uniform wearing steering committee, for difference from team and committee.
the steering committee member were pleased.
At lunch time, steering committee guidance participation team to the cafeteria.
The Cafeteria of Tezukayama University had prepared Lunch box. Thank you very much!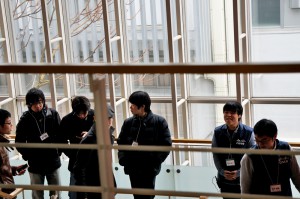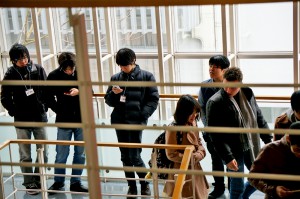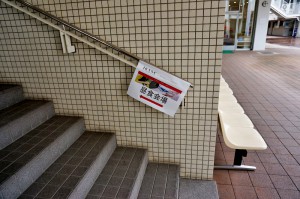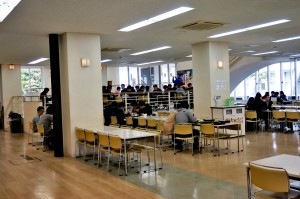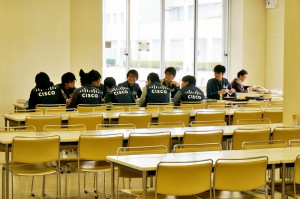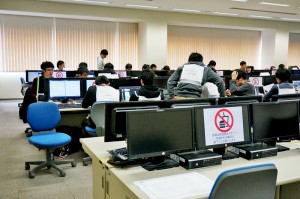 After lunch, competition restarted.
This time, after afternoon competition, we planed social gathering party. We hope the students deep exchange.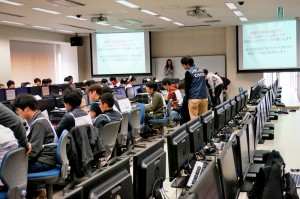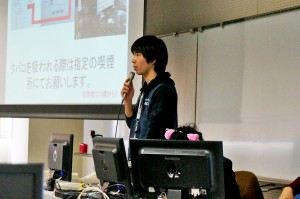 This is "NOC Tour". Before social gathering party.
Steering committee Introduced competition environment and equipment to participation team students.
Network staff and Server staff explain equipment and they showed demonstration.
Thank you very much Cisco systems G.K. for provided equipment.
Left is Optical fiber cable of contest venue. Right is external network. We use WiMAX mobile network for external network.
Demonstration. This is working hotswap, so we can exchange fan don't stop the machine.
After NOC Tour, the 1st day end.
Social gathering party
Before the party, the team introduction.
Team "WCDI" Nippon Engineering College of Hachioji /
Team "NISETSUMURI (with Pleasant friends)" Osaka Information and Computer Science College(Left)
Team "Team KOBAZEMI" Kansai University(Right)
Team "Team Aanabuki computer college" Aanabuki computer college(Left)
Team "Wiresharkers" Osaka Institute of Technology(Right)
Team "TOHOKU COMPUTER COLLEGE" TOHOKU COMPUTER COLLEGE(Left)
Team "Takeda army corps" ECC COMPUTER COLLEGE(Right)
Team "Computer Workshop" Kinki University(Left)
Team "Anabuki Information official college" Anabuki Information official college(Right)
Team "Team Hirocon" Hiroshima Computer College(Left)
And moved to the party place.
These dishes and desserts are provided by cafeteria.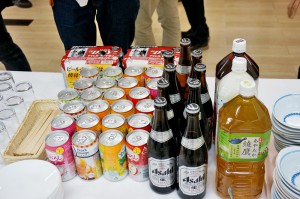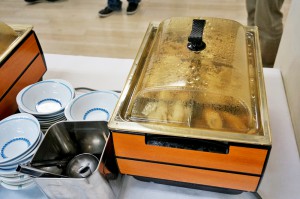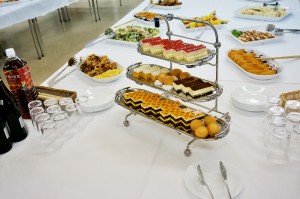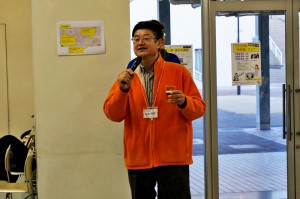 Opening greeting by professor Hioki. (Tedukayama University and executive committee)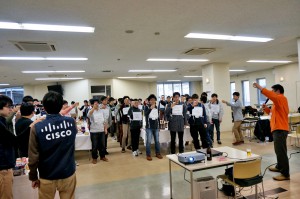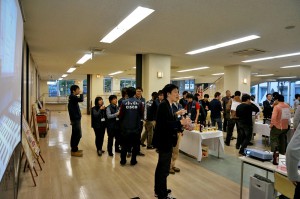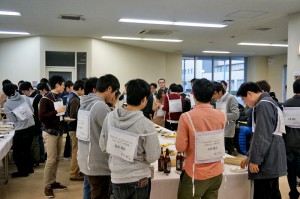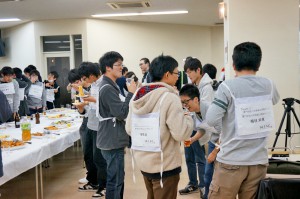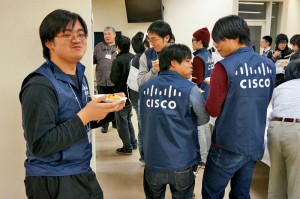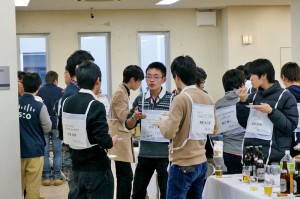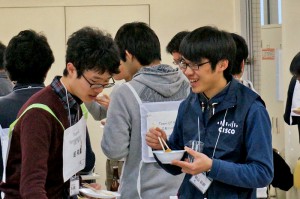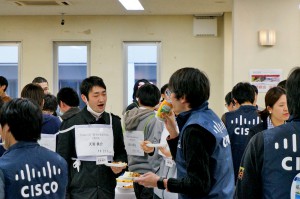 They seem could exchange themselves.
And on the other hand, committee students are preparing Lightning Talk.
The party continues on.
Then, Lightning Talk time.
The theme is free choice. Any talk is OK.
MC is Sudo who is committee student.
Below photos are Their Lightning Talk.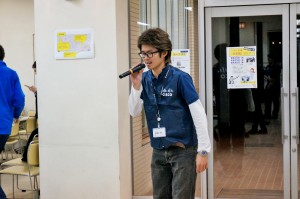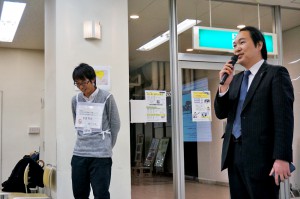 this is a slide of about competition question.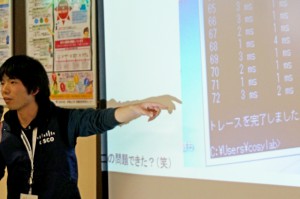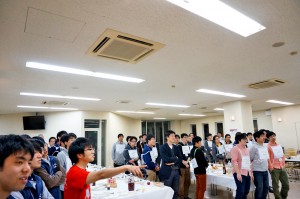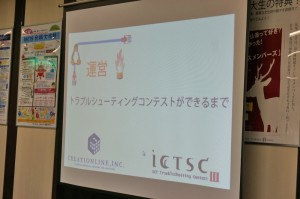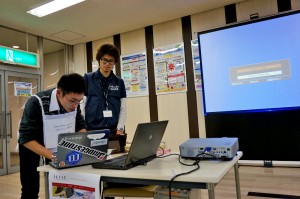 At the last, we gifted a novelty that we have given from SAKURA Internet Inc. and Cyber Agent, Inc. for students.
Thank you for cooperation of supported company.
Next day is the final.